2006 Nanny of the Year
Spotlight on The Nanny of the Year 2006 – Becky Kavanagh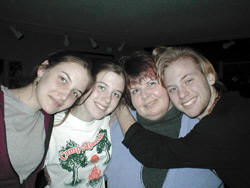 It is rare that I miss two INA conferences in a row and I was especially sad this year I was unable to attend when I heard Becky had won NOTY. I can remember when I first became a traveling nanny and attended my first INA conference. I was so scared walking into that big room with all these professionals. I was sure they would run me out—I mean I wasn't even a full time nanny on their scale! I will never forget how welcomed everyone made me feel. Especially this one nanny that just seemed to be laughing all the time! Becky endeared herself to me from the beginning with her kind and friendly manner. She makes all nannies feel respected and appreciated. She has been active in the INA since 1989 and was one of the first to take the INA Nanny Credential Exam. She also served as the INA President for two years and has been on the Board of Directors for six years as well as many INA committees.
I was not surprised to learn that in 1998 Hillary Rodham Clinton presented her with one of the Parent Magazine's awards for outstanding achievement in the childcare field.
That is enough to amaze you right there! BUT it gets even better! She is one of the few nannies that I know of that has been with the same family for over 16 years! From birth to their teens, this amazing nanny keeps her family on schedule. She has seen her family through divorce and the blending of two households. I think no one said it better than her oldest charge Cassie, ""She has a presence that somehow always communicates a sense of her absolute confidence in us, not only at every dance recital and orchestra concert, but every day. I have a deep and tremendous respect for Becky, and I consider myself profoundly lucky to have had her as my nanny."
When I read what the father Paul Kunkel wrote, ""More than anyone else in my life Becky has taught me how to be the father I hoped and dreamed I would be. For me she has been the "owner's manual" that children don't come with." I knew that first impression of Becky years ago was totally correct. She is an amazing nanny.
Her involvement with children doesn't stop with her family. She is also an active volunteer in the Girl Scouts as the leader of two troops, also the event chair and in serves at the leadership level in Prairie Star Service Unit. Becky was awarded the Outstanding Leader and Valued Volunteer honor.
The nominating committee made a great choice when they chose Becky for she is indeed one of the truly giving nannies of this generation. She is inspiring and represents the profession at the highest level.