2005 Nanny of the Year
Spotlight on The Nanny of the Year 2006 – Jenny Brown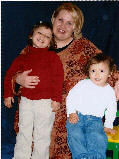 I wasn't able to go the 2005 INA conference so I had to wait to find out who got Nanny of the Year and was excited to learn it was Jenny Brown. You meet so many nannies at these conferences and yet, some stand out and Jenny is one of those. Jenny is always full of life and smiles and I know her little charges must adore her. I had a chance to do an email interview and would like to share her story with you. Another Amazing Nanny of the Year!!
What was were you like growing up? What age did you decide you wanted to work with children?
I was always outgoing. I had a lot of great friends. I was a hard worker and earned my own money at an early age. I earned most of my money babysitting through middle school and high school. It made me realize at an early age that whatever profession I chose, it had to involve children.
What careers did you think of after you graduated from high school?
When I was a junior in high school I started working in a daycare after school. Once I graduated, I went full time in the summer before starting community college in the fall. I really fell in love with the teaching aspect working with the kids at the daycare.
I became very close to a particular family. When they were expecting their third child they asked if I would consider being their nanny. I said yes, and the rest is history. I worked for them for six years and still remain very close to the family, five years after ending my job with them.
How many jobs have you had as a nanny?
My first job as a nanny was three days a week, so I found a two day a week job that would work with the first job. In total, I have had six nanny positions. I will be celebrating my five year anniversary with my current job on March 7th.
We all find areas we need to improve on as a nanny and that first job often teaches us what we need to improve on, need to be more assertive about etc.. What was it for you?
I know I am definitely more active in my field than when I first started out as a nanny. In my search to connect with other nannies I joined my local association and eventually became its president. I made the decision to national and joined the International Nanny Association and began to come to the INA conferences. It was great to be able to attend training workshops, conferences and I feel I never stop trying to improve my nanny knowledge. I still enjoy reading any literature I can find regarding nannies and childcare.
We are all different and unique. If someone asked you, "what makes you different than the crowd", how would you answer?
That's a hard question because I think all nannies are unique and special. I guess I genuinely have a passion for the nanny industry. I want the industry to be respected. I hope to be an example that there are professional nannies that have chosen this field as a career. I strive to keep that positive attitude locally and nationally.
What advice would you have for nannies wanting to go into this profession?
I would definitely say to get involved with a support group. My first year as a nanny was a bit lonely because I didn't know any other nannies. I met a Jennifer Erickson, who was an active member in the Northwest Nanny Association. She introduced me to the organization and my life changed for the better from that day on. We had play dates, activities and functions all the time. It was a time of creating wonderful friendships for me and the kids.
Do you think nannies should be certified to be a nanny?
A few years back, when I first heard that nannies might have to be certified to be nannies, I was very scared. I started to feel that I didn't know enough about my job. I definitely believe in continuing education and keeping current on first aid/CPR.
When I attended my first INA conference in Boston in 2004, I decided to take the Credential Exam. I decided too late to actually have time to study, but thought that I wanted to take it anyway. I was extremely proud when I passed the test. I just feel, for me, when I look for a new position in the future it shows my potential employers that I am a true professional. I know that not everyone takes tests well, but I definitely wanted to try the test for myself.
How long do you want to be a nanny in term of years? If long term, what about your financial future?
I can see myself being a nanny for many years to come. I have met with a financial planner and set up mutual funds. I have thought about the future and wanted some security for when I do retire.
What are the thoughts or feelings that went through you when you found out you had won?
I was elated. I felt I was being honored for something that I truly loved and that felt so good. I loved how my two kiddos reacted. The oldest, Sofia, who was 4 1/2 at the time, was telling everyone, "My nanny is the Nanny of the Year." It was so great to see their excitement, too. My family, friends and peers were equally supportive. Their were several "surprise" parties in my honor, which truly meant a lot.
What has it been like to be NOTY?
It has been a truly amazing year! The recognition from peers, industry and press was almost overwhelming, but I loved the positive influence this has been for the great northwest. I often find my family or friends mentioning the award to new people. Everyone is very impressed that there is such an award.
I feel very grateful and honored to have won this award.
I will always have the certificate and trophy, and great trip to Vegas to remind me of this amazing year!!!