2002 Nanny of the Year
Spotlight on The Nanny of the Year 2002 – Marni Kent
I have chosen to designate this part of my site to highlight the International Nanny Association's current Nanny of the Year. It is my hope parents will come to appreciate the high standards we have set for ourselves.
The nanny world is often a complicated one. There are single nannies, married nannies, and divorced nannies–which may or may not live in their hometown. Yet, what they all have in common is the desire to bring their abilities up to the highest level of professionalism.
There are two major nanny organizations dedicated to support ongoing educational resources and working with laws that affect childcare. The National Association of Nannies is founded by nannies and run by nannies.
The International Nanny Association is made up of Nannies, Agencies and Parents. As a member of both organizations, I have found them to be a source of comfort and knowledge. The INA sponsors a Nanny of the Year, which is announced at the annual conference. Everyone that is nominated is of the highest caliber and in that sense, all are winners. But one is chosen from this group of her peers for being an outstanding role model for nannies.
In 2002 I planned on attending the INA Conference in Florida and found two roommates to share the expenses. Imagine my delight when one of those roommates, Marni Kent, was chosen Nanny of the Year! We've become good friends this year and I was able to meet with her in Denver while there on a job. Marni has endless energy and dedication to her chosen profession. I've asked her to think back on her life as a nanny, the ups and downs, and share with us for a moment her story. It is a story written from the heart….
Marni's Story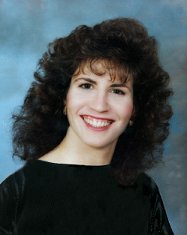 I suppose everyone has their own ideas on what kind of person becomes a nanny or even better, what kind of person should become a nanny. I guess it is a good thing I didn't know all those theories years ago or I would have been discouraged in becoming a nanny. Agencies, when interviewing nannies, want to know about your family background–was it happy, what kind of role models we had, etc. It goes along with the theory that a well-adjusted childhood with strong parental role models is preferred for those going into childcare. I suppose that is true, but there is something about having negative role models that tell you everything not to do! It makes you more sensitive to the simple things that can hurt a child.
The best way I can honestly describe the make up of my family growing up is to use the modern term dysfunctional. For a long time I was in danger of being dysfunctional too. I was emotionally and verbally frozen. I did not know what sitting down to a family dinner meant, have a parent hug me, ask how my day went or even that they were proud of me. I was told everyday of my life I would not amount to anything—so why even try? However, they did teach me about hard work. In junior high I worked in the cafeteria so I could have a hot lunch each day and during the summers I picked strawberries in the field and if I was lucky, made $30 a day. It did not take away my home chores which included shoveling out horse manure for 8 hours every Sunday. As I look back, I can say everything I went through helped to develop strong work ethics.
In high school I was in a class of 24 and my favorite class, the one that gave me joy, was my Child Development class. My insightful teacher suggested I go and volunteer at our local grade school. You might say it was there my true training as a nanny began.
I had no idea what to do after graduation. My hometown of Athena, Oregon, population 400, didn't seem to be a well of opportunity. After graduation I did every odd job I could find from pet sitting, fast food, and driving a Pea and Wheat combines during harvest. The one thing I discovered about myself during this time was what I did not want to do. I didn't want to be a farmer or a farmer's wife. I dreamed instead of being able to leave and find a place where I could finally discover my potential. Despite being told I was nothing, I still had dreams.
The one job that I would do from time to time that I enjoyed the most was traveling with Rodeo families and their children. Now days they would call that being a travel nanny! It may have been those experiences that caused me to take a double take on an ad in the local paper. It was an advertisement for a nanny. I applied and the next thing I knew I was on my way to Colorado. Even with my year of travel nanny experience, my first official nanny job paid only $500 a month. I watched 4 children under the age of 8. I was also expected to do the cleaning and cooking. To compound matters, my employer was at times two months behind in paying me. There were no taxes taken out and I was too naive to know the importance of payroll taxes. I knew nothing about having a nanny contract or how to effectively communicate to her my needs or feelings. My small storage of self-esteem was quickly dwindling and finally I got the courage to leave. I hadn't been paid for two months and needed a paycheck quickly. At this point I did not know that the job conditions were the exception—not the norm. But the job had taught me that I loved working with kids; they were my only bonus. I had so much love stored inside of me and found that children were eager to receive it.
I was truly blessed with my next family. The family gave me a paycheck before I even started. It was a live in position caring for two small boys 4 and 2. For the first time, I had a steady paycheck and was slowly learning to give and receive love. My two precious boys taught me the joy of saying I love you and gave me wonderful big sloppy hugs. I learned the true art of patience and discipline with love. I began to hunger for more knowledge because I was determined to be the best nanny I could be. I began to seek out educational childcare material and nanny resources. I found other nannies to talk with for support and knowledge and arranged mutual play dates for our charges. I wanted to be a positive role model as I realized how important I was to these children. I wanted to be a part of molding these wonderful boys into decent and caring souls. I sought out ways to provide a value system instilled with personal discipline.
Most of all, I learned the joy of being totally silly. Whether it was singing at the top of our lungs in the car, studying the animals in the zoo or trips to the Natural History Museum, I wanted life to be fun for them. I studied how they played, what made them laugh or marveled at how they wanted the same story read over and over! I often felt they give me my bachelor degree in childcare!
I realized early in working with this family the importance of liking yourself. Trouble was I didn't like myself too much. I was up to 182 lbs.; I had buckteeth and a unibrow. I knew it was up to me to change me. How could I teach children to be brave and disciplined if I wasn't? So I found a healthy way to lose weight, began to exercise and put myself in braces for 3 ½ years. I liked the cosmetic changes and it did make me feel better about the outside me. I also began self-help programs to work on raising my own self-esteem. Slowly I was learning the power of love and found graceful healing through playing with my children. Laughter is wonderful medicine for the soul. There's no greater joy than waking up and realizing you love what you do and you are very very good at it! I honed my skills by working closely in conjunction with the parents to ensure the safety and well being of their children. I learned effective communication skills and became adept at working with parents' preferred discipline styles. There was personal satisfaction working one on one relationship with the children and their parents.
The hardest part of my job is saying goodbye and it's something we usually do when the children start school full time, a parent decides to stay home or an economic setback makes the decision to let the nanny go. It gets complicated when you love the parent and children. However, this job had helped me develop completely as a person. I was now slim and had gotten the confidence up to join a line dancing class. Eventually I even won a few trophies. I realized the time had come to try and balance my nanny life with a personal life. Living in the tiny town 40 miles away from Denver, there wasn't much opportunity. So gathering up my courage and tears, I left to take that next step in life's adventures. It never gets easy to say good bye but I learned how to do it graciously. I'll probably always struggle with telling children good bye even when I know it is time to go. Children will always insist on growing up and not needing a nanny!
I have also had to learn that there are some jobs where no matter how hard you try, communication with parents just doesn't happen. It's their way and that's it. They allow you no input and the employer seeks to control your every move including your personal life. Often your charges, which are seldom the problem, adore you to the point they want to be with you all the time. Without support from the parents, you find you have no off time.
Early in my nanny career I found out there were many ways to calculate your financial worth. I remember one job that had me really excited at first. I was going to be doubling my salary! They gave huge social parties with famous and other wealthy people. But soon I realized that taking care of 6 kids, helping with homework, social event planning, working with gardeners, vendors and house hold staff, that it wasn't just my salary that got doubled as I was working 70 hours a week too! Once again, I realized I could moan or decide how to use this experience to learn. I quickly learned how to use my God given talents of thinking ahead, prioritizing jobs and finally, how to effectively communicate with demanding employers. I look back and wonder how and why I put up with employers that told me how to dress and even what brands to buy! There were so many things to learn and I often found that failure was associated with lack of knowledge on my part. I didn't understand about asking for accountability concerning payroll taxes and found myself with a $2000 IRS bill when my employers failed to pay the taxes they originally said they were deducting for me. I ended up taking a second job to pay the taxes.
I was young and I had a lot to learn about contracts that put everyone's expectations on the table before you started the job. But still, I loved the part about working with children. I found this unique gift was inside of me. I could bring a smile to a crying child, find the missing homework of another and still keep the house in order. This exhilaration I found working with children was what kept me working as a nanny in difficult times.
In 1992 my life changed forever. The confidence and secure love I had grown into through the years gave me the courage to love a man called David and his 2-½ year old son. I did what any sensible person would do– I married him.
I know that people see me as this very upbeat happy nanny and think being a nanny means never getting discouraged. But in 1993 that is exactly what happened. My job had the stress of working with parents that were divorcing. I was also dealing with the devastating loss of a sister that year from Cancer. Then one of my favorite former charges who was only 8 died on the operating table while going for simple surgery to have tubes removed from his ears. I wondered how I could continue being a nanny when I was consumed with grief.
My husband was my sounding board and we had many lengthy discussions about the long hours, the daily struggles I was experiencing and I had to really reevaluate what I wanted to do with the rest of my life. My husband reminded me of the most important element to consider. That element was my passion as an advocate for children. I knew that I possessed a working knowledge of understanding individual and family dynamics in helping everyone to reach the goals of the family. I had the skills needed now to effectively communicate my needs as well. At the end, I could only reach one conclusion; this was the career and profession for me. What I had discovered is that the career picks the person, not the other way around.
I've never regretted that decision. Despite the image some people have of nannies—that they are just glorified babysitters—I know better. So I've developed some new passions. I joined INA because I wanted to have a voice in my profession and meet my peers. On a local level, I started to mentor other nannies. I felt that I had spent years in learning how to be a great nanny and I wanted to make the road a little easier for the next generation of nannies.
What are some of the first things I try to instill as a mentor? I guess if I were to list them, they would include:
    Get into a social circle of Nannies
    Encourage them to have passion in their profession
    Teach them good communicate skills
    How to set up talks with employers to avoid problems down the road
    Good negotiating skills where everyone wins
I tell them, "Be proud to be a nanny and work to be the best you can each day. Remember, it's a child's life and we get to play in it every day!"
I would encourage them to read Like a Second Mother, by Barbara Blouin. It talks about the nanny situation of past years and that are still real in our society today. I highly recommend this book for any Nanny's library.
There are wonderful perks in being a nanny. Sometimes it is the simple things that set my heart aglow. I still treasure the cards from employers who wrote, "thank you for choosing us" when I accepted the job.
When ABC Nannies out of Denver, nominated me for Nanny of the Year, I had to stop and think why I could possibly be so special? I didn't think that working 50 hours a week in my nanny job and then doing weekend jobs for families that just needed a dinner out without the troops was that unusual. I knew my nickname was Mary Poppins and yes, I really do carry a carpetbag to work. It holds the usual Bob the Builder band aids that seems to heal the hurt along with the scratch, crafts and other items that help to entertain. I am constantly changing the contents till even the parents want to see what is in my bag today! And my mentoring and work with other nannies—well—that was something that just came natural to me. Yet, as I reflected on my road to becoming a nanny, I thought, maybe it was all about passion for children and THAT I knew, I qualified for in abundance.
A nanny can be nominated for INA's Nanny of the year by another nanny, they can nominate themselves, employers or Agencies can nominate you or any one who has knowledge of a superb nanny can render a nomination. To start the process of nomination you must be:
    Current member for one year
    Currently employed as a nanny
    5 years nanny experience
    Be able to attend the conference that year and the next
Then comes the hard work of submitting letters of employers, references—by the time I had the packet together it was almost an inch in height! It was a joy to read what the kids had to say about me and I guess I treasure those remarks the most. It was also awesome to read about the other nannies that had been nominated. Each candidate's qualifications were so impressive.
I had arranged to attend the INA conference in Florida and had roommates all set up when I got the call I had won!
The day I found out I had won The International Nanny Association Nanny Of The Year, I cried with joy. I was scared, and happy and overwhelmed. Later that evening I got to speak to Carol Anderson who was the INA's NOTY 2001. It was an honor for me to speak to her. I will always remember her words on my phone message and my lengthy conversation with her. I hope to make the next NOTY 2003-04 feel just as special.
My hotel room would be paid for and I would be presented the award at the last dinner. I think I had a hard time taking it all in and realizing it was real—someone had recognized the importance of what I do.
Being NOTY is exhilarating; it's the best word to describe being selected as Nanny Of The Year. I believe that I won this national award because I am an unwavering, dedicated and committed nanny representing the childcare profession. It affords me the opportunity to make a positive influential impression on existing and prospective nannies. My true passion is working to heighten awareness, commitment and respect for our profession. I think regulating our profession would be a great move. If there were mandatory minimums maybe the incidents of "Nanny gate" and Louise Woodward would be far less. There have been so many things in my life and career as a nanny that I cherished.
Some have made me cry with joy and pride, and some have reminded me it is time to move towards another journey.
Where do I go from here? I want to truly advocate for changes I think we need in our profession. I believe that being selected as Nanny Of The Year will afford the opportunity of not only sharing my professional experiences with my industry peers, but also, allow me to expound on my passion and dedication to this fulfilling career. Moreover it will permit me to have a voice in representing an industry that is developing our future.
The industry as a whole is lacking in providing a defined long-term future with respect to retirement and upward mobility opportunities. Specifically the stigma of "a babysitter" that is sometimes associated with the nanny profession can diminish the aforementioned opportunities due to misinformation by employers and the industry alike. While the nanny profession has made significant progress in terms of salary, if health care compensation continues to grow at its current rate, nannies from all levels could experience financial hardship and career instability.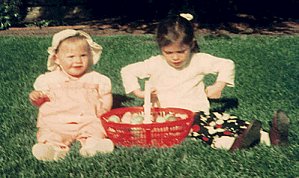 While some may think Mary Poppins only existed in books, I'd like to think there is a little bit of magic in all nannies. Like Mary Poppins, we examine the children's needs first and do what it takes to nurture them and their parents. Mary Poppins knew that she was there to highlight the family, not take the place of it. Like Mary Poppins, I store away my favorite things like homework projects, field trips with my charges and classmates singing in the car. I enjoy cooking out of the INA cookbook with a group of friends. I still enjoy the sound of laughter or kissing the booboo. Despite the warnings of experts, I treasure the simplicity of rocking a sleeping child. And who doesn't love reading with a child or two in your lap? I hope I never get too old to make silly faces and silly sounds as we read their favorite story over and over. I still dream of making a difference in a child's life. So when kids yell, "Mary Poppins is back", I just smile and open up my carpetbag…..